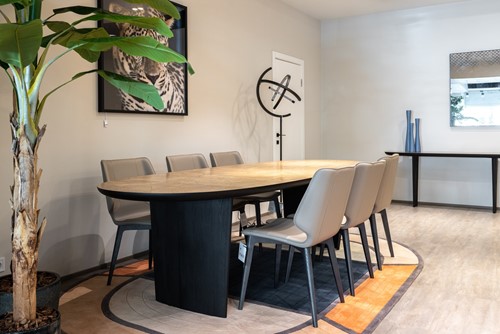 If you want to explore the mid-century modern interior design style, the dining room is an excellent place to start. No matter if you have an open floor plan or traditional formal dining room layout, you can use elements of mid-century modern design to enhance your space. Here are some ideas for simple ways to add a modern touch to your dining room:
Pastels + Natural Wood
Pastel colors and natural wood tones are a perfect recipe for a mid-century modern dining room. You can include pastels either with wall paint or with a large area rug under the dining table and chairs. If you choose chairs with upholstery, go for pastel shades in any hue. You can also carry the color scheme further with smaller details like wall art and decorative accessories.
A natural wood table is a great focal point for a mid-century modern dining room. Opt for a table with simple, clean lines made of teak, oak, rosewood or walnut. The chairs are another place to include natural wood. Go for chairs with wooden peg legs for an instant mid-century modern vibe.
Simple, Comfortable Chairs
Mid-century modern design is all about form following function. This also means comfort is key. What better place to prioritize comfort than in your dining room chairs? When you're searching for the perfect chairs, prioritize clean lines, simple shapes and curved edges. However, comfort is majorly important, so make sure you try out the chairs if possible. A great-looking chair means nothing if you don't want to stay in it for an entire meal.
Bold Lighting
Light fixtures are an excellent way to add mid-century modern style to any room and the dining room is no exception. In fact, most dining rooms already have a central piece of lighting or chandelier to serve as a focal point while also illuminating the meal. Luckily, there are tons of mid-century modern-inspired pendant lights and chandeliers on the market. Try a sputnik-style chandelier for something with bold, artistic lines. If you prefer something softer, opt for a spherical lamp shade on a regular pendant light to add some more comfort to the room.
Mid-century modern design can work in any room of the home. However, the dining room presents you with some unique opportunities to make your style choices shine.