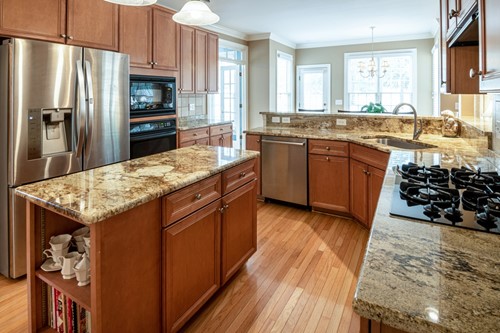 Kitchen islands have been popular in modern homes for decades. The appeal of the open-concept kitchen creates a need for more counter space while still keeping an open and inviting feel. There are many types of kitchen islands and different ways to implement them in your own space. If you're thinking of adding a kitchen island as part of a remodel or new home build, here are the basic types to know:
Rolling Cart Island
A rolling cart island is a convenient and versatile way to add more usable space and storage to your kitchen. Rolling carts are small and make for great prep or serving areas. The wheels make them easy to move to any part of the kitchen if needed, so in smaller kitchens, many opt for keeping them against a wall when not in use. Rolling carts can come in a variety of styles with features like open shelving, drawers, towel hangers, butcher-block counters and more.
Non-Portable Island
Similar in size to a rolling cart, a small, non-portable kitchen island provides the same prep space and functionality as a permanent fixture in the kitchen. They provide enough room for basic tasks and storage but often come with flip-up table leaves to increase surface area. These look much more like built-in kitchen islands than carts but are similarly inexpensive and don't take up a lot of space.
Island Table
You can use a table as a kitchen island if you have the room. Many homeowners opt for tall, narrow tables similar to a breakfast bar rather than square or round tables. Island tables are perfect for food prep, serving meals or setting up a party buffet. Depending on the type of table you use, there may or may not be built-in storage, so keep that in mind when making your decision.
Cabinet With Countertop
Some kitchen islands consist of a couple of base cabinets and a piece of countertop. These islands use the same cabinets and countertops as the rest of your kitchen and make for a cohesive look. The cabinets may have doors, drawers or a mixture of both, while providing a sizable amount of storage. Because you must affix this type of island to the floor, it is considered officially "permanent" according to electrical codes.
Fully Integrated Island
Fully integrated kitchen islands have plumbing and electricity built in. Some have a second sink in addition to the main kitchen sink. Many of these islands also include a gas or electric range. These islands are expensive and difficult to install because they require a lot of extra work to connect the water and electrical power. However, they are highly functional and add great value to a home.
These are just the basic kitchen islands you'll see available through builders and home improvement resources. Consider the options carefully to find out which is best for your kitchen.