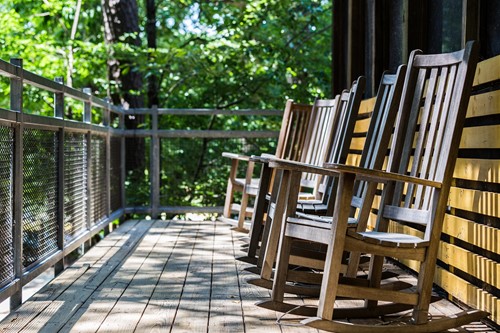 There are many terms in the design world that we use interchangeably. Those without specific knowledge of these terms might not know how they differentiate, but boosting your home vocabulary can be helpful with buying, selling or improving your home. One common example is the terms we use for private outdoor living spaces. Those terms include porch, patio, deck, veranda, balcony and sometimes even other less common names. How do we know which is which?
Here are the basic definitions of each type of outdoor space and how they compare to one another.
Porch
A porch extends from the building's entryway. Porches attach to the front of the house and are covered or open. Depending on the architectural style, it's common for porches to be defined by columns or walls. Porches also have railings or half-walls to further define them as a separate space from the rest of the front yard. Also, porches are almost always raised structures with at least one step up from the ground.
Patio
Patios are usually in the back of the house. They might be directly next to the home's outer walls or separated depending on the property. The key characteristic defining a patio is that it's on the ground level and made with either stone or concrete. Patios are usually open air, but many homeowners choose to add shelter either with freestanding structures or with shades attached to the side of the house. Though it's common to have a path or side-yard leading to your patio, the space is typically more private and reserved for guests.
Deck
Decks can be anywhere on the property, either attached or separate from the main structure. They are elevated off of the ground and built out of wood specially treated for outdoor use. Decks have railings for safety and can even have multiple levels connected with stairs. This is more common in homes with multiple floors or in areas where you can enjoy a great view from up high. As for purpose, decks are used for anything from storage to open-air entertaining space.
Veranda
Verandas are also sometimes called roofed galleries or ground-floor balconies. In a practical sense you could call it a combination of all the above. It's an enclosed ground-level space attached to the home with a railing or short wall. It can wrap around the house and serve as a point of access to side or back building entrances. Usually a veranda is used the same way you'd use a porch, but unlike a porch it's attached to more than one wall.
Other Outdoor Spaces
Here are some other terms for outdoor spaces you might encounter being used interchangeably or in combination with the above:
Balconies are small platforms attached to upper levels of the building. They always include railings or parapets for safety.

Terraces are like balconies, but not always attached to the building. They are typically much larger and sometimes have multiple entry points.

Lanai is a term originating in Hawaii that describes an outdoor living space attached to the building. A lanai can include traits of all the above outdoor spaces but is typically reserved for architecture in the Pacific region.

Engawa is a term from Japanese architecture that describes a narrow strip of hardwood flooring surrounding the house. An engawa is usually raised off of ground level but can be very low and rarely requires steps. While this type of outdoor space is common in traditional Japanese residential architecture, the term has gained some international popularity among designers and homeowners.